Marvin P's Bequest Says Thanks for Rescuing Me as a Teen Orphan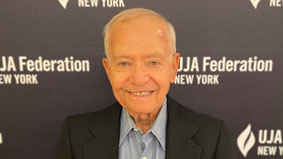 Marvin P's mother had already been diagnosed with ovarian cancer in 1954 when his father died suddenly from a blood clot in the brain. Marvin was 13. After that he was the one who took his mother to her radiation treatments, riding the train with her through the Bronx while silently wishing that his father could take him to one more Yankees game. Within a year his mother was also dead. Orphaned, Marvin moved in with his older sister and their infirm grandfather, but grandpa was soon moved into a care home and sister got married. Marvin, struggling to finish high school, had nowhere to go. Nowhere to live.
And then suddenly he did. An organization he knew only as "Federation" (Federation of Jewish Philanthropies of New York, which later merged with UJA) swooped in and placed him at a Boys Club in Lower Manhattan. He had his own room and three meals a day. He missed his parents terribly, but life began to stabilize. After high school Federation paid for him to learn bookkeeping and accounting—which launched a career that eventually led to working for the City of New York for the past 46 years. Now Marvin, who recently turned 79, is giving back with a bequest in his will to the organization that helped him so long ago.
"I want to give back monetarily so UJA can continue to thrive and be the agency they were to me and help other people," Marvin says.
Marvin's bequest
Marvin has chosen to give via a bequest because he says he is not wealthy, and he is currently helping care for his older sister—so he needs his current income and assets. Giving from his estate allows him to give more than he could give now. He has designated a certain percentage of his estate for UJA but may eventually increase that percentage.
"I wasn't a very big wage earner at the city," says Marvin, who worked as a clerk and then a supervisor for the city housing authority. "But the City of New York developed a program where we were able to take part of our salary and save it for our future, our retirement. And I made the decision that I was going to save as much money as I could. It was deferred money, so it was not taxed; and if you left it undisturbed, it would grow and grow and grow.
"Now I thank God that I am financially sound and independent and can help my sister Florence. She is soon going to be 85 years old; I bring food to her and make sure she gets the subsidies she is entitled to. I have a special trust set up for her: If anything happens to me, she is taken care of. If those funds are not needed, I will change my will going forward to give a greater percentage to UJA. They were my prime benefactors, so I want them to be my prime beneficiary."
His inspiration for giving
Marvin started making annual gifts to the UJA about 15 years ago, when he was asked to do some telephone soliciting for the organization.
"Some of my friends and I were asked to work on a phone bank to try to solicit some charitable contributions," he recalls. "We would go down to the headquarters of the UJA on various occasions, be given a list of telephone numbers of people who were contributors, and call them to get the word out on the work the UJA was doing. And I thought, 'I need to start giving myself.' It made me think back about how I had been helped."
Those tough early years and help from UJA
Orphaned as teenagers, Marvin and Florence moved into their grandfather's apartment. Marvin could barely comprehend that he would never attend another Yankees game with his dad, watching Mickey Mantle and Yogi Berra and the other Yankee greats of an era when they won the pennant almost every year.
"We always sat in the bleachers because we were poor," Marvin recalls. "It was 65 cents in the bleachers and 85 cents in the grandstand—and that 20-cent difference was a big deal. We brought our own lunch because we couldn't afford the ballpark food. But we had such a great time, my Dad and I. I loved to play ball, played softball for years, second base. Even today I go to the gym and work out.
"I was devastated by the loss of my parents. I was very, very close to them—had such extreme love for them. I had difficulties managing."
One of those difficulties was being his grandfather's primary caregiver (along with his sister) while trying to attend high school. Marvin had to teach himself Yiddish so he could communicate with his immigrant grandfather, who spoke no English.
"My grandfather was dependent on someone being there to help him," Marvin says. "Then my sister fell in love and decided to get married and was going to move out. My grandfather needed more and more assistance and was soon going to be moved into a care home. Suddenly I needed a place to live. I was still in high school, too young to live on my own."
To this day he does not know how Federation found out about his plight.
"Federation somehow heard about me and was willing to find me shelter," Marvin says. "Someone losing their parents was not a unique situation at that time, but Federation expressed such concern for me."
He was placed at the Boys Club—the address, 74 Saint Marks Place between First and Second streets, is burned in his memory—and he lived there for four years, describing it as a "wonderful place."
"I considered it my home," he says softly.
Young adulthood and finding his way
After graduating from high school, Marvin attended college sporadically and tried several menial jobs, but he was struggling. When he turned 21, he was too old for the Boys Home, but Federation kept providing assistance—placing him at the 92nd Street YMHA and helping him with career testing to find a direction.
"There was a waiting list to live at the Y, but somehow Federation made sure I got in quickly," Marvin recalls, and you can hear the sense of wonder in his voice. "They sent me to a private school in Brooklyn to learn accounting and bookkeeping. They paid for the course, the carfare, and my dinners."
Still, Marvin was broke; the Y served no meals, and Marvin struggled to afford breakfast at the Horn and Hardart Cafeteria: 40 cents for eggs, toast, juice, and coffee.
"Five cents, ten cents was a big thing back then," he says.
Finally, he got his career break, being hired by the City as a clerk and joining the Communications Workers of America union. He loved his job and never married or had kids, saying, "I will be married to the New York City government forever."
More words of thanks for UJA
Marvin P doesn't pretend that his life has been easy.
"Losing my parents at such a young age, it's still heartbreaking to think about," he says. "I was left by myself. I needed a new direction, a sense of direction. And Federation—now the UJA—acted as my surrogate parents. They were always in the background, shepherding me along.
"I am eternally grateful to that agency. I said all along, 'I will repay them for what was done for me.' I want them to be strong, to be powerful, to be the agency they were to me: so caring.
"I don't know what I would have done if they didn't care when I was younger, with such limited resources. They gave me the gift of life, the strength to go on, and that enabled me to become who I am today."
Back
© Pentera, Inc. Planned giving content. All rights reserved.