Former Refugees Sheba and Jack Make Estate-Plan Gift to UJA for Saving Their Lives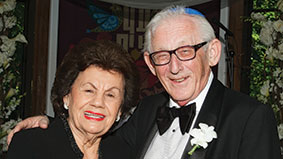 Jakob, called Jack by all, was born in Rudnick, Poland, during Hanukkah, 1928. Jack attended cheder (Jewish school) and for a while had the normal life of a young boy in a mostly Jewish Polish town. When Jack was just 11, everything changed, and the country was divided between Nazi Germany and the Soviet Union.
Jack and his family were sent to Siberia. Sheba, who was six at the time, and her family were sent there, too.
"When we were sent to Siberia, we didn't have any warm clothes; and in the winter it is 70 below and if any part of your face is uncovered, it freezes," Sheba recalls. "UJA support saved our lives. We got clothes and food in Siberia and after the war in Germany. And UJA helped me go to school. How could we not support them?"
Jack made the most of his time in Siberia: While still only 12 or 13 years old he became a shoemaker, learning how to fashion his own lasts and then how to make shoes using them. It was an entrepreneurial spirit that served him well for the rest of his life.
After the war both Jack and Sheba spent time in refugee camps in Germany. In 1950, with UJA's help, their families immigrated to the U.S., settling in Queens, New York. Jack and Sheba married in 1954, and the following year Jack founded Grand Basket, which imported baskets and patio furniture and became very successful. They had two children who have given them eight grandchildren.
The couple traveled widely for Jack's import company, including returning to Poland. Sheba's hometown had been destroyed, but they were able to visit Jack's former home town.
Jack's charitable giving was conducted along two different paths simultaneously, Sheba says. The "upper path," the one visible to all, was the path of public philanthropy that featured generous annual gifts to organizations such as the UJA, Yad Vashem, HIAS (the Hebrew Immigrant Aid Society), the Shelter Rock Jewish Center, the FIDF (Friends of the Israel Defense Forces), and Israel Bonds.
"But there was another path forward for Jack as well—the path of private philanthropy that was conducted not only outside the limelight, but outside of any outside light at all," Sheba says.
Sheba and Jack gave generous gifts each year to half a dozen Jewish organizations, including UJA. Jack sold his business in 2018 and passed away on Dec. 1, 2019.
"I am grateful to have had a life in the U.S. and grateful to all of the organizations that helped us," Sheba says. "After what we went through, this was heaven."
Back
© Pentera, Inc. Planned giving content. All rights reserved.