Linda and Jerry Spitzer Create Charitable Gift Annuity as Part of Their Tradition of Giving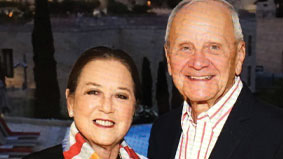 From their marriage of 63 years to their even longer association with UJA Federation, Linda and Jerry Spitzer know when something feels right and deserves their lasting support. That's why the couple has created a charitable gift annuity and a legacy gift to benefit UJA long into the future.
A first-generation American, Jerry grew up in a UJA-sponsored camp in New York — making his association with the organization more than seven decades old. He and Linda have been supporting UJA for years as part of their shared passion for helping those less fortunate.
Even when they started out their lives together with little income, "we always gave," Linda says. The Spitzers also actively volunteer for UJA-sponsored organizations.
A charitable gift annuity is just one of the ways Linda and Jerry have shared their passion for helping those in need. By adhering to Jewish values, they have found a life of service to others to be very rewarding and a tradition worthy of passing along to their two sons and grandchildren.
Through UJA, "when I'm no longer on this green Earth, I'll be part of their giving," Linda says.
Jerry agrees there is tremendous satisfaction from making a planned gift, and he recommends it to anyone who wants to leave a positive legacy.
"We have a responsibility to provide for others after we are not here," Jerry says. "It's the right thing to do … and I want to tell you something: it feels good."
Back
© Pentera, Inc. Planned giving content. All rights reserved.